10 JULY – STRIKING A BLOW AGAINST POVERTY PAY!
The coordinated action over local government pay on 10 July will bring 1.5 million workers out on strike from across public sector unions

More…
"

After all the attacks on our living standards by this vicious ConDem government it's vitally important that we now use the public sector strike on 10 July to mobilise wider layers of workers by urgently preparing for a sustained campaign of national industrial action".

Jim Reading – Stafford NUT
"TUSC is backing this strike 100%. July 10th must be used as a springboard for the further action that will inevitably be necessary to defeat this government. If the TUC fails to name the date for an escalation of strike action then the unions that are willing to fight should do it instead".
Andy Bentley – TUSC Staffordshire Organiser
"

This day of strike action should be used to put pressure on the TUC to name the date for a 24 hour general strike against austerity". Chris Parton – NUT rep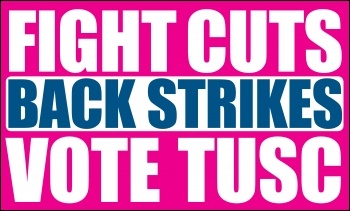 SUPPORT WORKERS ON STRIKE!
VISIT LOCAL PICKET LINES on 10 JULY!
PCS Picket lines starting at 7am;
Hanley Benefit Office & HMRC – Albion Sq, Hanley

Hanley Job Centre, Huntbach St

Kidsgrove Job Centre, The Avenue, Kidsgrove
Main PCS focus Albion Square
PCS Speaker at Kingsway, Stoke Rally 12:00 (speakers 12:30) – please join us.
JOIN the LOCAL TRADE UNION RALLY IN STOKE
DEMANDING "FAIR PAY FOR ALL"
Thursday 10th July 12.00 noon – 1.30 pm Kingsway, Stoke, ST4 1JH
On Thursday July 10th, millions of public sector workers, who have had enough of having their pay frozen or capped, will be on strike.
Unions on strike on the day will include GMB, NUT, PCS, UNISON and UNITE.
Local branches of these unions, based in Stoke-on-Trent and Staffordshire, will be rallying on Thursday 10th July, assembling at 12 noon in the Kingsway, Stoke, with speeches starting at 12.30. Speakers will include: • Jason Hill, President, North Staffordshire Trades Union Council • Clive Rushton, UNISON • Colin Griffiths, GMB • Simon Green, UNITE • Linda Goodwin, NUT • plus a speaker from the PCS
All are welcome to attend the rally with banners and placards.
Jason Hill, President of North Staffordshire Trades Union Council, said: "We are proud to take part in this rally, and express our solidarity with our affiliated trades union that will be on strike on July 10th. We need an economic recovery that works for everyone, not just those right at the top. Our trades unions are fighting for fair pay for all, in both the public and private sectors. Britain needs a pay rise."
The coordinated action over local government pay on 10 July will bring 1.5 million workers out on strike from across public sector unions
More…